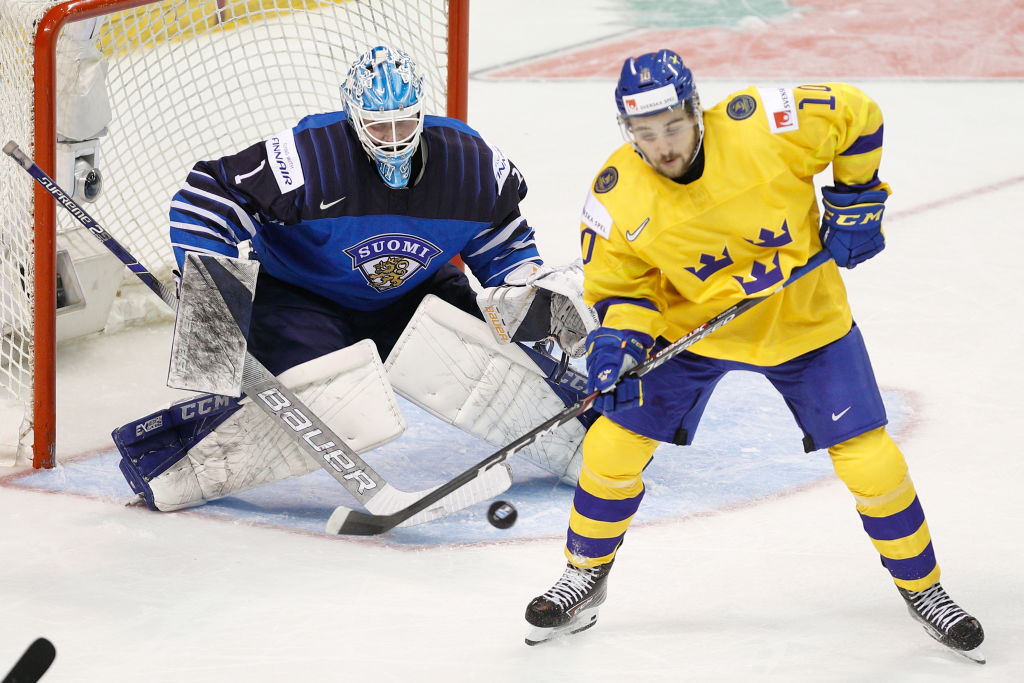 Finland
Last Years Finish: 1st
The Fins will look to pick up where they left off from last years Gold medal effort as they find themselves fortunate to be placed in the less talented of the two groups. Losing key pieces from last year's run such as Luukonnen, Jokiharju, Tolvanen, Kakko and Heponiemi is never easy and they will be hard shoes to fill. Now, that doesn't mean the Fins won't be able to recreate what they did last year, it just might come a little bit harder. Be sure to look for returning names like Kupari, Utunen and Heinola to make big impacts and play leadership roles for the rest of the Finnish squad.

In goal, the Fins have brought three new goaltenders in hope that one of them can be the wall that Luukonnen was for them last year. As for who will start, it looks like they will be going with the mammoth 19-year old Justus Annunen. The Colorado Avalanche third-round pick stands at 6'4 and weighs nearly 210 pounds and has posted more than attractive numbers playing with Karpat of Liiga (Finnish Elite League). Over the 13 games that Annunen has started this season, he holds a record of 11-0-2 and polishes it off with a brilliant 1.26 GAA and .947 save percentage, these stats are incredible for any goaltender let alone from one as young as him. Last year despite finishing 3rd in group B, Finland allowed the least goals over the four games (7), Their stingy play became remarkable in the knockout rounds as they were able to really settle in and master the play style. They went on to defeat a highly talented Canadian team in the Quarter Finals and ultimately the defence and stellar goaltending was the question that no teams had the answer for.

On the back end, the three returning defensemen from last year's team will most likely be taking up the bulk of the ice-time. Ville Heinola, Anttoni Honka and Toni Utunen are all very good defenseman and they will add to that defensive stability that they rely on. Heinola played in last year's tournament as a 17-year old and was able to notch 2 points and finish +3 over the five games he played, the Winnipeg Jets first-round pick, will most likely have a very good tournament this time around. He's developed a lot over the year and has even got some NHL experience; in the 8 games Heinola has appeared in a Jets uniform he has 1 goal and 4 assists. These numbers are quite impressive for his age and with the added experience from the last tournament he won't need a game or two to settle in. His play will definitely be crucial to Finland's performance as he will most likely be out there the most. One notable new piece added to the defensive core would be Lassi Thomson, the 19th overall pick of the Ottawa Senators adds an offensive spark to the blue line; he pairs is smooth skating ability along with a strong shot from the point. He would make a very dangerous power play combo with Ville Heinola if that is what Finland head coach Jussi Ahokas decides to do.

The forward core for Finland is a bit more of a question mark, as they are only bringing back one forward from last year's gold-medal team that being the bright 19-year old Rasmus Kupari. Kupari finished last years campaign with 5 points over the 7 games he played, he'll look to better this mark as he will most likely centre the first line this year and play a significant role on the power play. Notable new additions to the forwards include Aku and Aatu Raty; Aku, the older of the two (18) is a skilled forechecking winger, willing to do the dirty work to open up spaces for his linemates and is more than capable enough of finishing off chances. Aku has 18 points in 9 games playing for U20 Karpat in Jr.A Liiga. As for his younger brother Aatu, he will be looking to make an early impact on the tournament and has the chance to boost his draft stock for the 2021 draft where he is projected to go in the top 3. Aatu is a skilled playmaking centre who has 14 assists over 16 games playing with his brother for U20 Karpat. Along with the Raty brothers, look for Sampo Ranta to make a name for himself in this tournament. The University of Minnesota Left Winger has improved from last year for his NCAA team and has also posted 6 points over 7 games in U20 pre-tournament games this year.

Finland prides itself on playing very smart, stable and fundamentally sound hockey, with the way their roster looks heading into this tournament. It should be more of the same from them, stability at the back and a few dangerous weapons up front, they'll keep it close and hurt you on the power play if you aren't careful.

Player to watch: Ville Heinola

Sweden
Last Years Finish: 5th
Sweden looked great last year exiting the group round-robin, they went undefeated in group play; finishing in first place and set to play Switzerland who placed fourth in group A. It seems that the Swedes got carried away and didn't think too much about the task at hand and it really ended up hurting them. Sweden embarrassingly exited the tournament in the Quarters, losing 2-0 Switzerland. This year the Swedes will definitely be looking to better their efforts and hope to capture their first gold medal since 2012 and only third in history.

In goal for the Swedes this year should be Hugo Alnefelt. The 18-year old stands at 6'3 and is able to command games when he pairs his size with his good positioning. Hugo is no stranger to representing his country, last year he led the U18 team to a gold medal in the U18 World Juniors and was named as one of the top 3 players for Sweden in the tournament. As for what we know from club play, Hugo holds respectable numbers over the 8 games he has started this season for HV71 of the SHL (Swedish Hockey League). He owns a 2.09 GAA and a .910 save percentage. The only reason that Sweden may not start Alnefelt is that he is the youngest of the 3 goaltenders they have brought.

In front of Alnefelt, Sweden has brought back 4 defencemen from last year's roster. Two of them are Philip Broberg and Rasmus Sandin, these two highly touted prospects will look to carry the defensive load for Sweden over the course of the tournament. Both of their play styles mesh very well, which is good as they can look for defensive stability from Broberg while Sandin can work his magic, skating circles around opposing teams. Another tool they will likely use on the defensive side would be the New York Rangers 28th overall pick from last year; Nils Lundkvist. The right-handed playmaking defenseman will be put to use on one of the Swedes power-play units as he has proved in the SHL this season that he can provide. 4 goals and 13 assists over 24 games as a defenseman is not too shabby at all and definitely gives a reason for Sweden to use him in all situations.

On the offensive side Sweden possess one of the most highly touted prospects in the world right now in Lucas Raymond. Raymond is essentially locked to be a lottery pick in the upcoming draft and a good World Juniors performance could raise his stock even more. Lucas has all the intangibles of becoming a superstar he's fast, smart, strong and works very hard every shift. going into the tournament as a 17-year old can be difficult as you are at least a year younger than pretty much everybody else, but for talents like Raymond he's used to playing against older competition. Last year as a 16-year old, Raymond put up 48 points in 37 games playing in the Swedish U20 league. Of course, the Swedish junior league doesn't compare in skill to the World Juniors, but this proves at least that Raymond has a sense of comfort playing with guys 2-3 years older than him. As if one top prospect wasn't enough, Sweden also has 17-year old Alexander Holtz at their disposal. Holtz is set to join his teammate Lucas Raymond in the 2020 NHL draft and will look to highlight his tremendous goal scoring ability especially in the favourable matchups that Sweden will come up against in group play. In the 2 games that Holtz played this season in the U20 Swedish League, Holtz bagged 7 goals and 2 assists, looking at those stats we can see why it only took 2 games before Holtz was called up to the SHL. His pro league stats aren't nearly as flattering as his U20 marks, but a tournament like the World Juniors is perfect for Alexander, more time, more space, less discipline. The rest of the Sweden forward core is built around strong two way players, a couple of key 19-year olds for them will be Oskar Back, Jonathan Berggren and Albin Eriksson.

Sweden has a very strong core this year, if the supporting roles are able to do their job and they get an above average goaltending performance from Alnefelt, the Swedes could make a strong case for a gold medal this year. Teams have to make sure they DO NOT take penalties against Sweden as they have far too many dangerous power play weapons that will make you pay, especially Alexander Holtz.

Player To Watch: Alexander Holtz

Switzerland
Last Years Finish:4th
A fourth-place finish for Switzerland last year is higher than most would've expected from the underdog nation. The Swiss have only ever placed with a podium finish once in the Nations history, finishing with a bronze medal at the 1998 World Juniors. But the growth that Switzerland has made as a hockey country is undeniable. Nico Hischier became the first Swiss-born player to be selected first overall in the NHL draft in 2018 and in terms of World Junior performances Switzerland has been able to reach the knockout rounds in each of their last 3 years.
Returning in goal for Switzerland will be the man who played superhero for them last year in the Quarter Finals, Luca Hollestein. The 19-year old standing at 5'10 is undersized for a goalie but he really makes up for his size with tremendous ability and competitiveness. We saw just this on display against Sweden last year where Luca was able to stop all 41 shots he faced on route to knocking off the undefeated Sweden team. If the Swiss want to repeat the success from last season, they have to hope Luca once again brings his 'A' game because although the Swiss are developing well, they still don't match up player for player with the powerhouse nations and will need a good goaltender to give them a chance each game.

On defence, the Swiss have a couple of notable players. Nico Gross of the Oshawa Generals has put up promising numbers this year in the OHL, with 19 points over 27 games, the team will look to him to provide on both sides of the ice and will most likely be playing a high amount of minutes. Along with Gross is Gatineau Olympique defenseman David Aebischer. Aebischer and Gross both featured in last year's team and will look to have a greater showing this time around, given the added experience that they now possess.

Players worth mentioning on the forward core for Switzerland include; Kyen Sopa, Simon Knack, Valentin Nussbaumer and Fabian Berri. Knack is the only 17-year old the Swiss are bringing along and he definitely earned his spot with how well he's been doing in his first season of WHL hockey. At 6'1 and weighing in at 190, Simon is at a great size for his age, so physicality isn't something that will phase his game. He's put up 18 points over 25 games for the Portland Winterhawks this season and has the ability to continue to grow and add more to his game, this tournament should be a great learning experience for him. Kyen Sopa is at 31 points in 30 games for the Niagara Ice Dogs of the OHL, the team will look to him to put his speed and craftiness to use when in need of a goal. Valentin Nussbaumer is one of the few returning players from last years roster, this season he's managed to score 7 goals and assist 18 in the 25 games he's played for Shawinigan, which is a notable increase from last years production. So far in U20 international play this year he has been able to stay point per game through 5 games played.

A couple of bright spots on this Switzerland team, but they likely won't be enough to advance them past the Quarters this year-round. They will keep games close and if teams don't take their chances against Hollestein, they could squeak out an upset as we've seen them do before.
Player To Watch: Simon Knack
Slovakia
Last Years Finish:8th
Slovakia's run last year ended at the hands of Russia, an 8-3 loss in the Quarter Finals in a case where simply, the better team won, it's the sad reality of the World Juniors and not everyone can be like Switzerland. This year they'll try and have a better campaign with the help of the easier group placement.

In goal for Slovakia, it looks to be none other than Samuel Hlavaj, the QMJHL rookie is leading the league in GAA (2.05), Save Percentage (.926) and Shutouts (3). The monstrous goalie is showing capabilities of being the real deal and if Slovakia is able to limit the number of quality chances their opponents get, it's gonna be very tough to beat him. His huge frame covers most of the net even when he's in the butterfly along with a great sense of positioning. Hlavaj was brought along last year and I think that will be helpful for him now that he's their starter.

Slovakia's defence is their obvious downfall this year, 17-year old Samuel Knazko has put together a bright season so far playing for TPS U20 in Finland where he's scored 22 points in 32 games and has only managed to commit 2 penalties. They definitely aren't loaded with talent on the back end but if they're able to clog up the shooting lanes and manage to get the pucks to the forwards, they can still win games with this defence.

Going forward it brightens up for Slovakia, Oliver Okuilar has scored 42 points in 32 games this season for Lethbridge (WHL), it took him 66 games to notch the same point total last season in the QMJHL so he's been able to develop his scoring ability and overall play. Tampa Bay Lightning 3rd rounder Maxim Cajkovic will play a key offensive role for Slovakia. The 18-year old Right Winger has great skating ability paired with a hard shot and fast release, he currently has 22 points, 10 of them being goals in 16 games for St.John Sea Dogs (QMJHL). Goals will come as luxuries for a team like Slovakia, so they will need to depend on players like Cajkovic to finish off individual efforts.

This Slovakian Team brings the most 17-year old skaters to the tournament along with Germany, so there are question marks, but if they can get some quality performances from Hlvaj and Cajkovic can happen to net 1 or 2, the Slovaks could give their opponents a run for their money. The battle between Slovakia and Switzerland for 3rd place should be interesting.

Players To Watch: Samuel Hlavaj

Kazakhstan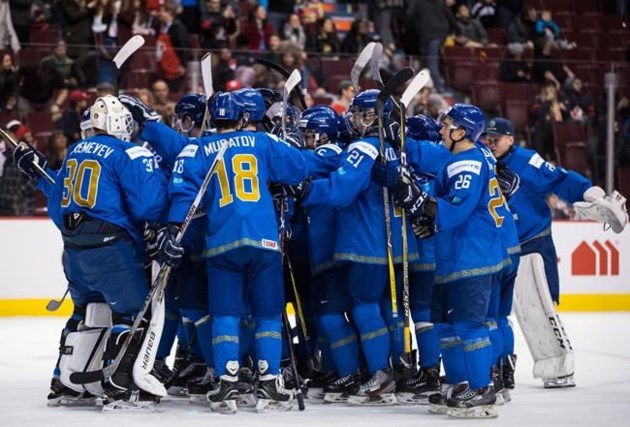 Last Years Finish: 9th
Last year, Kazakhstan were able to keep their heads above water, finishing 9th out of the possible 10 places and this year they'll hope for the best, which would be the same result.

Vladislav Nurek will likely be doing the netminding for Kazakhstan, he made 2 starts in the World Juniors last year and lost them both but experience experiences and hopefully for Kazakhstan, he'll be able to keep them in some contests against Slovakia and Switzerland.

If Kazakhstan wants to have a chance they will have to use the size and physicality of their defensive core to make players uncomfortable and throw them off. David Muratov ( 6'4 180), Timofei Katasonov (6'4 209), Temirlan Gaitamirov (6'4 201) need to be strong and box out well in order to give Nurek a chance at anything special.

More of the same to be said on the offensive side of play, the Kazakhs need to work relentlessly hard and play incredibly smart hockey for there to be a chance at any points. Forwards that Kazakhstan will look to, to create something would be Oleg Boiko and Disa Guseinov.

Kazakhstan couldn't stand toe to toe with any team in this tournament, so the only thing they can depend on is slowing down the other team or an outstanding goaltending performance from Nurek.

Possibly Borat could help?

Player To Watch: Disa Guseinov