We have officially entered the post NFL Draft part of the football offseason. We witnessed some extremely impressive, although unexpected, moves by many teams during the draft, but we were also left wondering about the logic – or lack thereof – demonstrated by the front offices of some organizations, namely the Green Bay Packers (it does pain me to write it, no matter how true it may be). But independent of the quality of any team's draft, much light has been shed on how all 32 teams are shaping up as we approach the oncoming football season. Which, to the delight of all fantasy footballers, gives so much context on the outlook of different players from a fantasy football perspective. I know Week 1 is still more than 4 months out, but I wanted to put out an early guide for 2020 fantasy football, so fans can begin preparing for their draft as soon as possible. I will be releasing 4-5 fantasy football articles covering significant content, so keep an eye out for more to come.
These are the players I will be avoiding the most when drafting, as of their situations RIGHT NOW. This list is definitely subject to change, should any teams make moves that impact certain players' value in any way. The following are in no particular order.
Aaron Jones
I love Aaron Jones as a football player. He's an extremely efficient runner (4.6 YPC), has great vision and burst out of the backfield, and is a more than capable pass catcher. He was a major contributor to Green Bay's success last season, and I really appreciate him for that reason. That being said, I will be steering clear of Jones come fantasy draft day. Now, why would I be avoiding the 2019 RB2 in PPR leagues? Well, to start, Jones' inconsistency in 2019 was extraordinary. He had 5 games with less than 10 fantasy points, and 6 games where he put up 25+ points. Jones had the ability to break a game open entirely, but when he disappeared, he really disappeared. Speaking of Jones' big games, he had 2 games where he delivered 40+ points; Week 8 against the Chiefs earned him 41.6, and Week 5 against Dallas earned him 49.2. So, in 2 weeks, Jones put up 90.8 points. Those 2 weeks made up 29% of his total fantasy points for the entire season. In 2 weeks. Finally, Jones found the endzone 19 times during the regular season. His success was extremely touchdown dependent. Should Jones have had less endzone success, say, scored 13 touchdowns instead of 19 (which is still crazy impressive), he would have finished as the RB6 instead of RB2. All these factors point to regression for Jones in 2020, as his 2019 success was unsustainable. I am completely avoiding Aaron Jones through the first 2 rounds in drafts.
Mike Evans
There is not one single factor that creates my distaste for Mike Evans from a fantasy football perspective going into 2020; it seems to be many different things that have aggregated in such a way that I think Mike Evans owners will be extremely disappointed in 2020. Firstly, the emergence of Chris Godwin hurts Mike Evans as he will take an even larger target share from Evans this season, compared to what we saw last season. On a separate note, I love Godwin this year and he is currently ranked as my WR6. And, Godwin will horde extra targets with the Buccaneers addition of Brady because of Brady's love to target the slot. We saw so much success with Brady hitting Edelman on slant and crossing routes out of the slot for so many years, and I think Bruce Arians will attempt to create the same type of connection between Brady and Godwin. Evans rarely lines up in the slot, and runs more deep, low percentage routes. Brady's arm strength is not what is once was, and I think his love for the slot will limit Evans' success in 2020. Additionally, Rob Gronkowski just unretired to be traded to the Buccaneers, and he will immediately command a significant target share from Brady, given their electric connection in New England. Despite Arians' pass-heavy offense, I don't think Evans will see enough targets to be of value at his current ADP. I would only consider drafting Evans should his ADP fall before drafts really begin, say to the WR15 range. But I cannot, realistically, see that happening.
Mark Ingram II

The sole reason for Mark Ingram's presence on this list is the fact that the Ravens drafted JK Dobbins. Dobbins was, in my opinion, the second best running back of the class, behind Jonathan Taylor. He is a true workhorse and can handle a heavy workload, as we saw with him at Ohio State. Ingram is getting old, 30, and like most running backs around his age, will no longer see a RB1 type workload. The Ravens drafting Dobbins with their second-round pick seems to mean that they want to get another running back involved quickly, and Dobbins, with the talent and durability he possesses, has the ability to do so. If the Ravens wanted to have a running back sit behind Ingram, and have limited touches for some time, they could have addressed that need later in the draft. But the use of a high pick on such an elite player indicates to me that the Ravens will put Dobbins to use immediately. That's not to say Ingram won't be valuable with the correct pick – I just would not consider drafting him where he is currently being drafted. I believe the Ravens run-heavy offense will start as a committee, but Dobbins will clearly establish himself as the RB1 at some point during the season.
Derrius Guice
We know how talented Derrius Guice is as a player. We saw him tear up the SEC in his final 2 years at LSU, running for over 2600 yards and 26 touchdowns during his sophomore and junior seasons. Despite the dazzling college resume, Redskins fans only be disappointed with what Guice has given their franchise over his first 2 NFL seasons after being selected in the second round of the 2018 NFL draft – 324 yards, 2 touchdowns, a torn ACL, a torn meniscus, and a sprained MCL. Guice has been plagued by injury his whole career, which is why I will continue to avoid him entirely in fantasy football drafts. Additionally, the Redskins have such a messy backfield, with Guice, Adrian Peterson, and the signings of JD McKissic and Peyton Barber. I've seen Guice ranked inside the top 20 running backs for PPR formats, which I think is ridiculous. I won't be touching him with a 10-foot pole going into 2020.
Tyler Higbee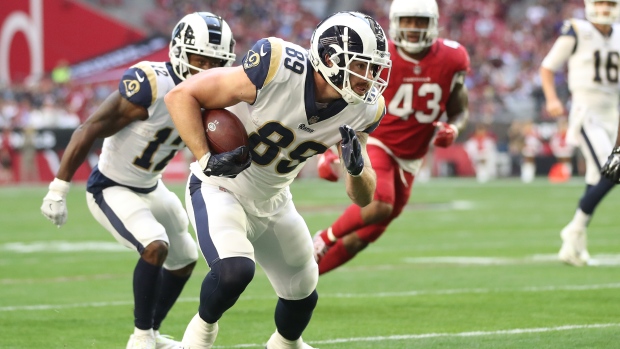 Last season was like watching 2 different Tyler Higbees. Over the first 11 games of the season, Higbee averaged 6.0 fantasy PPG, and then exploded for 25.7 fantasy PPG over the last 5 games, after Gerald Everett was sidelined with an injury. His surge of fantasy relevance at the end of the season has shot him way up in Tight End rankings, as he is currently sitting somewhere round the TE8-TE10 range. I am completely avoiding him at that value, for two reasons. Firstly, he only began to produce once Everett was injured. Everett will be of perfect health to start the season, barring something unexpected, which hurts Higbee's value in a major way, as we saw last year. Secondly, Rams head coach Sean McVay has stressed all offseason that he loves Everett and is intent on getting him more involved in the offense. Both of these point towards Higbee seeing a lesser target share, in an already crowded offense with Cooper Kupp, Robert Woods, Josh Reynolds, Cam Akers, and Gerald Everett. The only way Higbee would end up a roster of mine is if I'm grabbing him as a bench guy in one of the last rounds of my draft.
Deshaun Watson

I love watching Deshaun Watson play. He's an electric quarterback with great passing and rushing ability, which is what has made him so relevant for fantasy football. I was extremely disappointed to see DeAndre Hopkins traded to the Cardinals, as this hurts both guys, but Watson significantly more than Hopkins. Hopkins will still be catching passes from a talented quarterback with great accuracy in Kyler Murray, but Watson now lacks that reliable first option that Hopkins provided for him. Hopkins has played a huge role in Watson's fantasy success, accounting for over 30% of his pass attempts, completions, yards, and passing touchdowns over that last 2 years. His departure hurts Watson more than anyone. And I understand that Will Fuller and Kenny Stills will both step up, and that Brandin Cooks will play a large role in the passing game, but I don't believe any of these guys can recreate the connection Watson and Hopkins had – nor could most guys in the league. So, I will be avoiding Deshaun Watson in fantasy football at his current ADP because of the Hopkins trade alone; this is a comment on the lack of weapons at his disposal, not at all about his talent or ability.
In addition to biggest avoids, I'll be writing about the biggest sleepers, positional rankings, and more in the near future.